Powerwash

Low Power Housewash
Our professionals know how to clean cobwebs, dirt, mold and mildew from your home without damaging your structure or surrounding plants and fixtures. We use a proven balance of diluted bleach with our cleaning solutions while dialing the pressure back to allow the chemicals to work rather than the pressure. Plants are rinsed before and after the cleaning so they are not harmed in the process.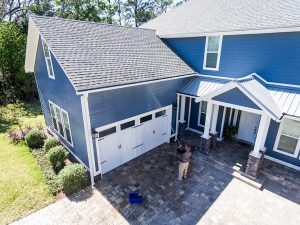 Low Power Buildingwash
Powerwashing a commercial business employs many of the same techniques but often on a much larger scale.  Heavy equipment and commercial lifts are often needed to reach elevated heights but we are careful to use proper positioning not to damage commercial landscaping or sod.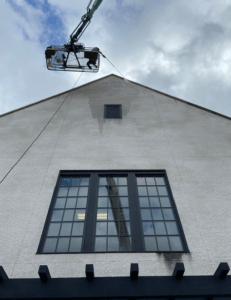 Powerwashing is one of the most rewarding types of cleaning that we do because the results are often very dramatic.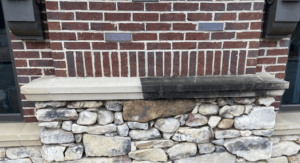 Low Power Deckwash
Our experienced professionals know the right techniques to loosen dirt and mold without damaging soft wooden surfaces. Proper chemicals do the heavy work while our crews use light pressure to renew the wood and rid your deck of that tired weathered look.  Care is given to renew the wood surface without making wood pulp out of it with unnecessary pressure.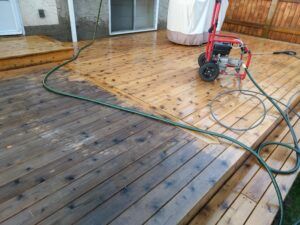 Low Power Fencewash
Washing wooden fences employs the same basic techniques as cleaning wooden decks.  It is important to use long deliberate strokes in line with the wood grain to keep from creating a "patchwork  quilt" effect.  The results are amazing when Pressure Pros know what they are doing!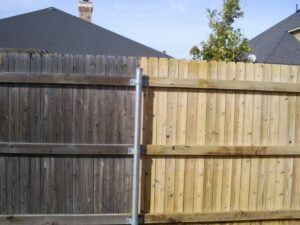 Flat Surface Cleaning
Driveways, patios, sidewalks and other hard surfaces require higher pressure and different equipment to clean their porous surfaces and get rid of dirt and years of blackening mildew. Our crews are trained with the right equipment and know the best solutions to get the brightest finish to your flat surfaces. Rust staining and other special challenges usually require additional treatment and upcharge.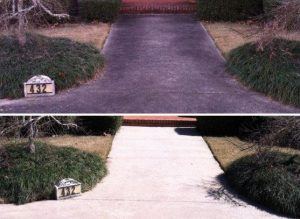 Stone Cleaning
Stone surfaces may be pressure washed with proper care if the mortar or grout is intact and in good shape. Missing, brittle or broken mortar may prevent stone patios or walls from being washed with high pressure. Methods can be adjusted to compensate for slight mortar decline, but some jobs may not be possible until proper repair is done.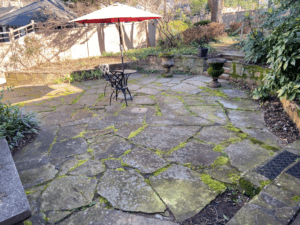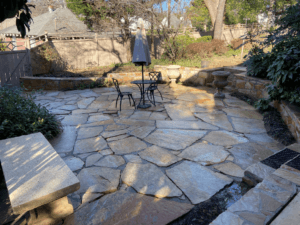 What a Difference!
Our Pressure PROS have the knowledge, skill and patience to get PRO RESULTS which are obvious in these B4 and AFTER pictures.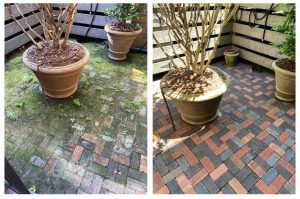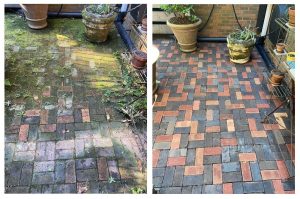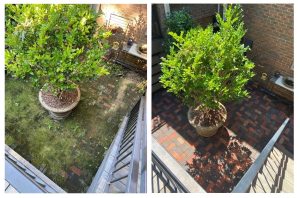 QUESTIONS?   205-213-1200