Siding

Siding Installation
If you are building a new home, contact us for siding options and pricing information.  We can also give your existing home a fresh new look by replacing your tired or damaged fascade.   Today's superior vinyl and Hardie Board materials are excellent for moisture management and energy efficiency and will provide years of beauty and functionality.  Our professional teams have the experience for full installations to give your home the appearance that you will be proud of for years to come.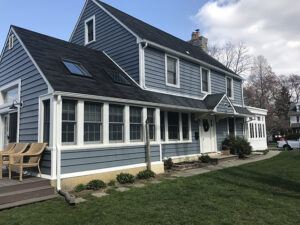 Siding Repair
Wind and storms can result in loose, missing or damaged siding that may require partial replacement. Contact us whether you have a little or a lot of damage and we'll work hard to find and install matching materials to provide that "professional" rather than "patched" look.  Depending on the age of your existing siding, materials may be out of production.  If exact materials are no longer available rest assured that we will match them as close as possible and do our best to give you quality that you will be proud of.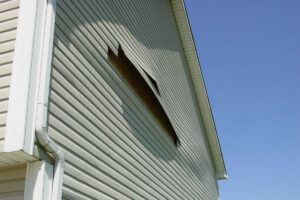 Vinyl Restoration
For smaller puncture holes from storms, pets or lawn mowers we specialize in vinyl restoration.  In circumstances when the vinyl is out of production, it may be difficult to find matching colors.  Our trained techs can assess your damage, create a color matched sample and use it to fill and blend the holes with an incredible result making it almost impossible to detect the original damage site.
Siding Damage
Water intrusion is one of the most common reasons which may result in slow but sometimes catastrophic damage to your home's exterior.  If this is ignored the result may be deeper damage to your home's structure that may not be visible until the rotten siding is removed.  We will always provide an accurate, fair  and definite price for our proposed work.  If more damage is found to home substructures we will pause the project, advise you of the problem and provide you with an updated estimate to handle new findings.  You will not get any Surprise Invoices from us for work that we did not discuss.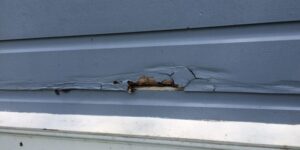 Chimney Repair
Chimney damage is quite often the most common place where water intrusion shows up.  Damage often occurs when poorly functioning gutters adjacent to the chimney introduce water repeatly to the surfaces.  We can handle needed gutter repairs and repair or totally replace your chimney chase with superior materials that will handle water issues much better than older materials used in previous years.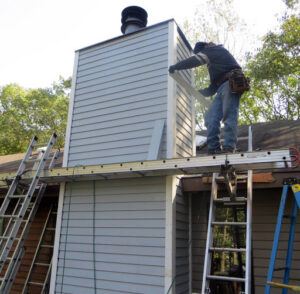 Chimney Caps
A rusted or compromised chimney cap can be a source of water intrusion within or unsightly rust trails that stain the exterior of your home.  Our teams can often repair, sand & paint your chimney cap to stop the rust race.  If things have progressed to the point that a new chimney cap is needed we will give you an honest evaluation and a fair price for a new chimney cap installation.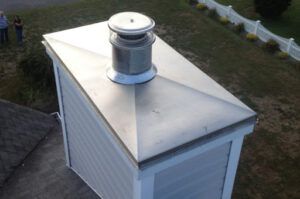 Woodpeckers & Siding
Believe it or not, woodpeckers are attracted to siding due to a variety of reasons. During breeding season, woodpeckers often peck it because the noise attracts potential mates. They also tend to nest in the siding.  Such activities by woodpeckers can obviously damage, however the extent as well as the susceptibility of your siding depends on the material. Fiber cement siding isn't as prone to woodpecker damage as other siding options and is the best type when it comes to resisting woodpecker damage. Economical and attractive, fiber cement siding will provide many years of top-notch performance and weather protection.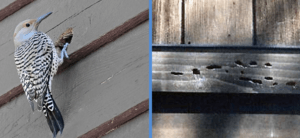 Vinyl Wrap & Trim
If you are tired of flaking paint and ongoing paint projects a vinyl wrap may be advisable.  The most pleasing benefit to vinyl soffit and fascia over all other benefits is what also makes it the most popular choice among homeowners. Vinyl is the most affordable material you can buy.  Your vinyl soffit and fascia will be very low-maintenance. Once they are installed, you shouldn't have any maintenance other than occasional cleaning. Wood soffit is not as popular as it used to be due to the fact that it requires more painting and upkeep. Vinyl soffit won't fade or peel over time and won't need to be repainted like wood.  We also provide aluminum wraps for homeowners who prefer that option.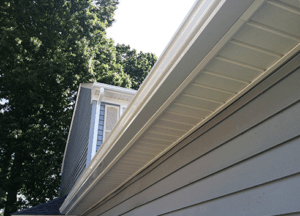 QUESTIONS?   205-213-1200